Save Byrne Creek Forest East

Contact the author of the petition
Cedar Creek Housing Development
2018-10-18 06:06:19
There is no demand for a housing development that
Is not served by translink on any regular basis, and, is not within a comfortable walking distance to any skytrain.
Has limited parking on a very small property, leading to problematic street parking.
Is a valuable natural habitat that has not been recognized as such through Environmental Assessment.
Has been forced upon the voting public by a mayor whom has allowed developers to calculate the dollar value of our precious environment for their profit.
Will increase the dB of skytrain noise through removal of 12 acres of protective, noise reducing forest.
Will increase the dB of highway noise through removal of 12 acres of protective, noise reducing forest.
Will increase the amount of silt debris finding its way into Byrne Creek, distrubing the clean habitat for coho salmon.
Ciara Tiara
Thank You To All Who Sign This Petition
2017-11-29 21:10:56
The petition was printed out and sent by courier directly to the Mayor (via the City Clerk's office) yesterday, November 28th 2017.
The City Clerk's responsibility is to deliver our signed petition directly to Mayor Corrigan.   The word size on each petition page had to be shrunk to about 6 point font, yet still required 21 pages to fit in everybody's comments.  This was a privately sponsored petition, therefore printing costs were kept to the frugal level.
Great lengths were taken to protect the privacy of each electorate who signed.  Only e-mail addresses appear on the petition.  NO addresses and NO phone number appear on the petition print out.  It is not my business to deliver personal information to City Council, who would not use that much useful voting information with integrity. 
At the top of each of the 21 pages, is written: Petition to Stop the Sale of 6438 Byrnepark Drive. 
Yesterday was the date chosen by City Council to announce the winner of the development.
Next year's election is the date to replace City Council.
We are all doing our part.  Thank you voting public.  
Ciara Tiara
Cover Letter for Petition
2017-11-17 01:02:37
November 16, 201
Mayor Corrigan
4949 Canada Way
Burnaby, B.C.
V5G 1M2
Dear Mayor Corrigan,
Please find attached, the signatures of the electorate who are discovering that Environmental Sustainability Strategy does not include the continued well being of our forest in South Burnaby.
This petition will never be taken down from the petition site. It will allow the signing electorate to witness, amongst other things:
Unsubstantiated housing projections and unwarranted development.
Unwanted overflow parking on Byrnepark Drive
Half-hour bus service on all neighbourhood routes.
Low walk score for any services in range of development
Irregular maintenance of the neighbourhood bus shelter at Marine Way and Byrne Road
The increasing number of electorate signing the petition is telling. It shows mistrust in the elected stewardship of our neighbourhood forest at 6438 Byrnepark Drive. The development potential of this parcel is not welcomed by the electorate in our surrounding Burnaby neighbourhoods either.
Burnaby                      435
New Westminster           58
Vancouver                     49
Coquitlam                     15
Surrey                          12
N.Vancouver                   9
Also attached is a print out of a resident blog contributed to Metrotown News.
Unfortunately, we are left with many unanswered questions surrounding this unpopular development decision.
A decision based on a projected population growth from no determined source other than extrapolation guesswork given in a rush to absorb Vancouver growth.
Sincerely,
The Petitioners.
Ciara Tiara
Metrotown Residents Association Blog November 10, 2017
2017-11-11 02:41:03
Ciara Tiara
Mayor Corrigan and Head Planner for the City of Burnaby - Working Together for 50% Growth in 25 Years
2017-11-03 17:39:56
Please read and adjust your view on the actual worth the City places on Environmental Sustainability.
"Mayor Derek Corrigan and Director of Housing and Planning Lou Pellettier leave out no opportunity to refer to the additional 40,000 people that will make Burnaby home by 2021, or the 125,000 people by 2041, to justify their sell-out plan of Burnaby's lands to the highest bidders.
They like to portray this "expected" population growth number as if it was demand driven, determined by some sophisticated projection method by Metro Vancouver. It is not. Reality is this number is a "commitment" of Corrigan/Pellettier themselves to Metro Vancouver. It is based on Corrigan's crazed vision to increase the population of Burnaby by ~50% within 25 years only.
Worse, the housing supply they create by plastering Burnaby full with condo apartment blocks will not help solve the housing problem a bit. People come to Burnaby because the developers behind Corrigan/Pellettier actively market this housing nationally and internationally."
Ciara Tiara
Correct Location of Land For Sale Sign on Byrnepark Drive
2017-11-01 19:05:12
Dear Demian Rueter,
Please explain why the City of Burnaby condones the placing of the Land for Sale sign so FAR DOWN THE HILL from the actual land parcels that are coming up for sale.
According to the public documents, the Right of Way extending east from the green utility box is the limit of the development.
The Right of Way extends eastward from that one and ONLY green utility box found on Byrnepark Drive to the Rain Garden Path.
That utility box is sitting amongst overgrown blackberry bushes.
The petitioners require much much more transparency about the actual amount of forest that will be removed than what the City is currently revealing.
For the city to be fully transparent they will need to either
1. Move the LAND FOR SALE sign much further up the hill, to its correct location on the south side of THE GREEN UTILITY BOX
or
2. The City Engineering must remove the blackberry bushes to show the public the full extent of Phase One and Phase Two of this development.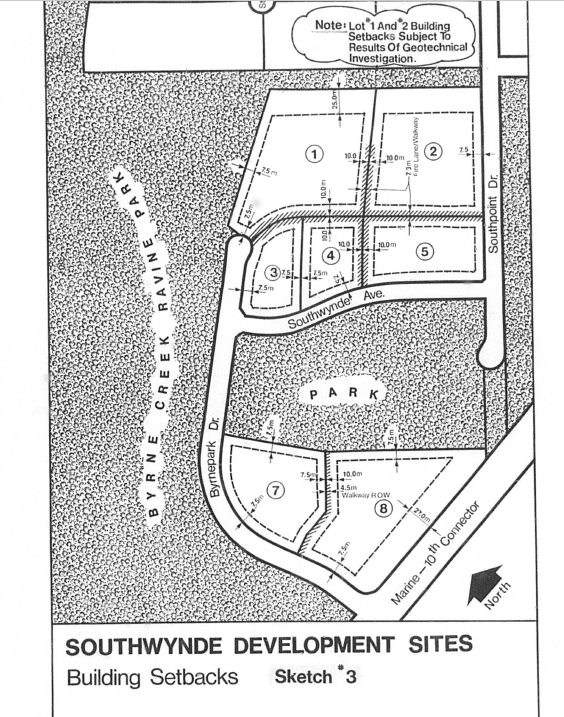 Ciara Tiara
Development Guideline Diagram Now Combined with R.O.W. Letter to Demian Rueter
2017-11-01 01:11:09
Please see Subject Line & thanks for your continued interest.
A Reply to the Petition from Mayor Corrigan
2017-10-21 01:36:42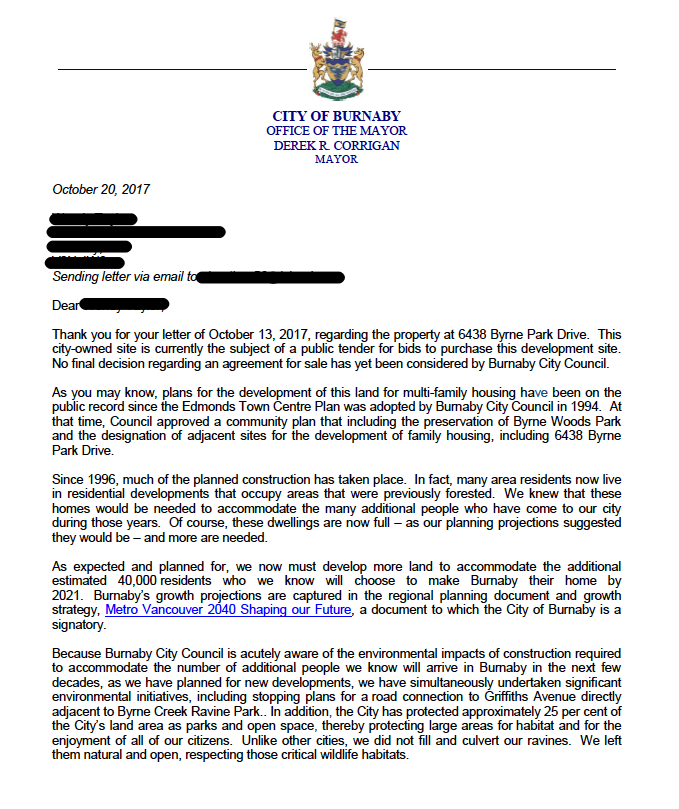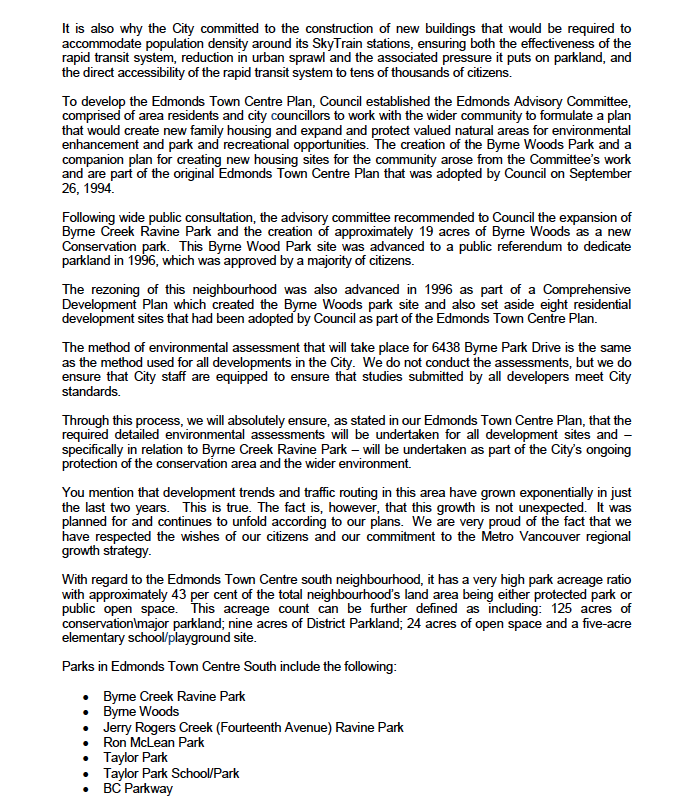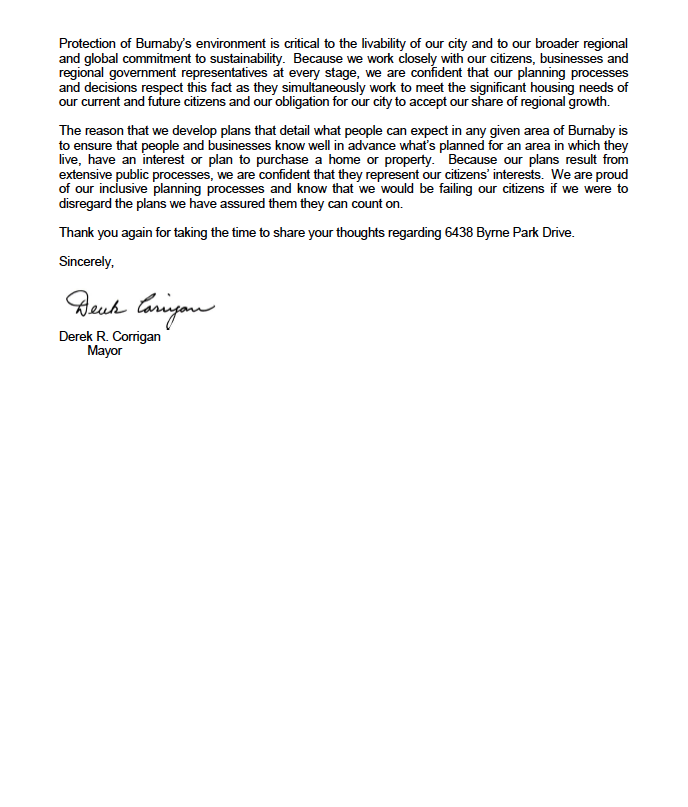 Ciara Tiara
Questions Removed
2017-10-18 21:45:19
These questions were removed.
Ciara Tiara
Announcements
2017-10-15 01:55:28
Please stay tuned for future announcements